On Football - No. 5: Brazil 1982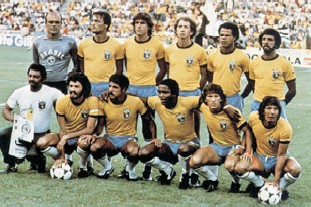 This started out being about Zico, probably the most talented individual of the Brazilian team from the 1982 World Cup in Spain. But I kept wandering away from him and his long and glittering career just to talk about that team, the wonder of its performances in that World Cup, and how it shaped the way I see football, the World Cup itself and all Brazilian teams, indeed, all teams, since.
The best team doesn't always win in football, especially in World Cups. This is a cliche which is usually backed up by a few references : Hungary in 1954, Holland in 1974, and Brazil in 1982 (we might add Argentina in 2006 to that list, but thats another post). Italy beat Brazil in 1982 in one of the best matches ever played. With Brazil out of the way, the Italians went on to win the tournament. But ask a football fan about that World Cup, and probably their first and favourite memory will be of the Brazil team.
First of all, it had a list of players of a stupidly high standard : besides Zico, there were Socrates, Falcao, Eder, Junior, Cerezzo, Oscar, Leandro and Serginho. If the majority of Brazilian internationals have an almost flawless technical ability, then this team set a standard none has since matched. They were all capable of changing a game with a piece of trickery, a cannonball from outside the box, a cunning, disguised pass, a sly dummy. Coach Tele Santana believed fervently that football was entertainment, and drilled his teams to play exciting, attacking football. This team was the epitome of that philosophy - built only to attack, to play forwards relentlessly. One of its greatest offensive weapons was Junior, the classic model of the bucaneering full back.
This team won every match in its South American Qualification schedule, never an easy task. Then, on a European tour in 1981, they beat England, France and Germany, each on home ground. In their final warm up match before the tournament, they beat Ireland 7-0 in Brazil. If ever there was a footballing equivalent of the Harlem Globetrotters, here it was. They didn't really do simple goals, either. This is Eder's winner from Brazil's first game in the World Cup proper, a 2-1 victory over the USSR. Observe the passing and movement in the build-up, Falcao's sublime little dummy on the final pass, and the fact that Eder doesn't just hit it,he flicks the ball up into the air just so he can volley it, same-footed( and past an utterly static Dasaev, at that time the best golakeeper on earth), into the top corner :
Eder was the team's left-winger, sometime taker of free-kicks (he sent one around the wall against Scotland at what looked like a right angle) when Zico didn't fancy it, and he was nicknamed "The Cannon" for the incredible power of his shooting. Brazilians have the coolest, most fantasy football names, too, and his full name is perfect for a South American footballer : Eder Aleixo de Assis. It seems incredible to say that for a player of such flair and skill, he wasn't even anywhere near being the star of the team.
But then he had competition. Zico ( real name : Arthur Antunes Coimbra, nickname : Galinho, or the Little Rooster, and no I don't have a clue why, it must be a Brazilian thing) was arguably the greatest player in the world in the era between Crujiff and Maradona, an attacking midfielder with an eye for spectacular goals, fantastic dribbling ability and a great range of passing. His free-kicks were all about elegance where Eder's were about power. Zico stroked the ball unerringly into the top corner, as if the wall wasn't there, as if the goalkeeper never had a chance. Go to Youtube and do a search, there are some unbelievable Zico compilations on there. This goal from 82 isn't even one of his best :
Then there was the team's captain, Socrates, cult hero whose face adorns t-shirts you can buy at Spitalfields and in Urban Outfitters. His full name is too big for brackets : Sócrates Brasileiro Sampaio de Souza Vieira de Oliveira. I'm not making this up. He was a qualified medical Doctor, held a doctorate in philosophy and smoked and drank heavily. While also being Captain of the best football team on earth and one of the best midfielders in the world. On the pitch, he tottered about like some Sunday morning park footballer, but his reading of the game was unerring, and his touch was always graceful, his decsion-making seldom wrong. He was particularly famed for his regular back-heels, which were always casual and yet always precise. He also cropped up occasionally with a crucial goal :
Then there was Falcao (relatively uninterestingly named plain old Paulo Roberto Falcao), Zico's partner in midfield, an elegant playmaker, driving force behind the Serie A winning Roma team of the mid-80s, and owner of that most crucial of 1980s footballing hairstyles, mullets excepted : the Ginger Afro. Thats him, on the right, the other chap is Zico :
Like everyone on that team, Falcao sometimes liked to blast one into the top corner from 30 yards. This one, for instance, from the afore-mentioned classic against Italy :
Junior, the teams left-back (full name : Leovegildo Lins da Gama Júnior, nickname : the Helmet, nope, don't ask me, mate) didn't seem to understand what a defenders job actually was. He spent most of his time skinning his opposing full-back and arrowing towards goal. Here he scores against Argentina :
That collection of talent somewhat overshadowed Serginho, the centre-forward, who was almost a British-style player, aggressive and powerful, used to niggling opposing defences into errors. If this team had any flaws offensively, then they were in the forward line. Serginho's game wasn't really suited to the pure football played by Santana's side. Indeed, he was only playing because of an injury to the first choice striker, Careca, a more cultured player. But the others had enough firepower to outgun any opponents, or so it seemed in the early rounds of the competition, when they dismissed the USSR 2-1, beat Scotland 4-1, and New Zealand 4-0. If those results made them appear flat-track bullies, well, then they beat an Argentina side featuring a young Diego Maradona (who was sent off for striking out in frustration) 3-1.
On July 5th 1982 they faced Italy at the Sarria Stadium in Barcelona. The World Cup was a very different competition back then, with two group stages before the knock-out stuff began at the semi final stage. Against Italy, Brazil only needed a draw. If they got that they would face a Poland side denied Boniek, its leading player, in the semi-finals. Italy were still struggling for form, having drawn their three group games against Poland, Peru and Cameroon. They only qualified for the second group stage on goal difference. Once there they had beaten Argentina, mainly because their hard-as-nails defender Claudio Gentile had kicked Maradona all over the pitch, recording a World Cup record for fouls on a single player. The rest of his teammates had taken his example and Argentina were bullied out of their rhythm and the competition. Italy were not talking to their national press. Star striker Paolo Rossi, just returned to the game after a long ban for his involvement in a match-fixing scandal, was misfiring, yet to score or even play well. It seemed like a formality that Brazil would win.
But what made this Brazilian team such a joy to watch was their commitment to constant attacking football. Here it would prove their undoing. Italy, as always, could defend as strongly as anyone in World football. They played on the counter-attack, and within 5 minutes they were 1-0 ahead, Rossi finally coming good with an easy header. Brazil equalised through Socrates before Rossi scored again, a shot from the edge of the box exposing the weakness of the Brazil keeper, Valdir Peres.
Again, Brazil came back,and I remember watching the second half of the match, with Brazil dominating, threading the ball around the pitch, shooting every few minutes, then the Italians retaliating with their own lightning-quick breaks. It was football of a quality I had never seen before, football like something from a modern computer game. These men in yellow shirts played a different game to the players I regularly saw in the English league. Even their kit seemed more galamourous and beautiful than the usual red and white and blue and white combinations I knew so well. It has been claimed that part of the spell that the World Cup-winning Brazilian team of 1970 cast upon the World's population was down to the fact that 1970 was the first televised World Cup and the Brazilian kit - golden shirts and a gleaming, metallic blue for the shorts - looked so glorious in full colour under the Mexican sun on television screens across the planet. As a young boy I fully understood that in some instinctive way - football kits were important totems, the colours and combinations seemed to have some power and meaning I felt but would never have been able to articulate. Brazil had the best team and the best kit. Against Italy (whose Italian nickname, the Azurri, even comes from the colour of their shirts), their football finally paid off as Falcao equalised in the 68th minute. Its that goal from up above, and you can see how important it was from his mental celebratory sprint across the pitch.
But Rossi wasn't to be denied. If Italy had done enough to qualify they would have retreated, protected their own goal. Not Brazil. They kept attacking, looking for more goals. In the 74th minute, Italy forced a corner and Rossi scored after a scramble on the edge of the area. Brazil attacked frantically for the remaining 15 minutes - and had a series of glorious chances - but Rossi's hat-trick had finished them off, and the game ended 3-2 to Italy. Brazil were out and Santana resigned.
The spine of that team returned for the 1986 World Cup, but Zico, Junior, Falcao and Socrates were all 32 and over, and they never played to the same high standard. They were eliminated (in another classic, and on penalties) by Platini's France in the Quarter-finals. It would be 1994 before Brazil would again win the World Cup, and they did so playing a relatively dour, defensive brand of football. The legendary status of the 1982 team, despite its lack of success, remains undimmed.
The 2006 Brazilian side, blessed with its purportedly dazzling attacking line-up including Ronaldinho, Ronaldo, Kaka, Robinho, Adriano and Juninho, was compared to the 1982 team in the run-up to a World Cup they were favourites to win. But they never gelled, they never even really entertained, and as a team, they don't even deserve to be mentioned in the same breath. Brazil 1982 seem to me to be the best team I ever saw, playing football the way its supposed to be played. Still, I suppose the 2006 team had a couple of decent players. This chap, for instance. Zico himself would be proud of a goal like this :
Labels: football