On Football - No. 7: Juan Sebastian Veron
If you've read any of my other football posts, it'll be evident that I have a thing about playmakers. Number 10s. But then what fan of beautiful football doesn't? But there are other kinds of playmakers. Number 10s generally play in the "hole" position between midfield and attack in order to give the opposition the biggest problems. In the hole, neither the opposition's defence or midfield is sure whether they should be marking him. In the modern game, the best playmakers are either man-marked or the responsibility of a holding midfielder. But there is another sort of playmaker, one who plays further back up the pitch, in a more conventional central midfield position, and dictates passing from there. The midfield general, I suppose, though thats a phrase you don't hear so much anymore. Its almost a quarterback role, really, best-suited to players who can deliver high quality long passes to forwards in a split second. Perhaps the most successful example in the modern European game is Andreas Pirlo at AC Milan. Pirlo plays in a position normally associated with defensive midfielders, yet his tackling and covering abilities are limited at best. His passing, on the other hand, his ability to deliver a perfectly weighted through-ball to a sprinting Kaka or Gilardino on the edge of the opponents box from the half-way line, is exceptional. His ability to dictate play through his slide-rule passing is such that one of his nicknames in Italy is "metronomo". But, until last year there was another player in Serie A with a greater range of passing than Pirlo, a more sublime touch, more acute vision. That player was Juan Sebastian Veron.
Like Juan Roman Riquelme, Veron is a controversial figure in Argentine football. Like Riquelme, he was made the scapegoat for the failure of a talented Argentina squad to win a World Cup. But hes a very different player. Elegant and athletic, he covers ground effortlessly. Indeed, football seems almost too easy for Veron, which is perhaps why he has had image problems with fans. He never seems to be trying too hard, trusting instead in his athleticism and his brilliant technique. The fact that he is traditionally paired with a more obviously load-bearing or water-carrying player - Diego Simeone being the supreme example - only makes Veron look lazier and less commited by comparison. But his technique is his greatest strength. While he played for Manchester United, he and David Beckham played out an amazing warm-up routine before every game. They would take up positions on opposite touchlines and stroke the ball across the pitch in long sweeping arcs to one another, neither ever having to move even a step to receive the others pass. It served as a way for each to find his range. Once Veron's range was found, he was capable of punishing any opposition with a series of searching passes between defenders. Observe this volleyed pass, first time, to a breaking Beckham (whose finish isn't bad, either) :
Veron's father, Juan Ramon Veron, was a striker for Argentina and Estudiantes, nicknamed La Bruja, the Witch, which is where Seba's nickname La Brujita (little witch) comes from. He was renowned for his fine technique, another thing his son obviously inherited from him. Veron Jr began his career at his father's old club, Estudiantes, before moving on to Boca Juniors, where he played alongside the likes of Maradona, Claudio Caniggia and Kily Gonzalez. He only played 17 games for Boca in 1996 before he was brought to Europe, another in a long line of young Argentinians poached by big Italian and Spanish clubs. He spent 2 seasons with Sven Goran Eriksson's Sampdoria in Italy, breaking into the Argentina team and playing in the 1998 World Cup, where his deliberate style and ability to dictate the pace and direction of play from a deep position was perfectly suited to coach Daniel Passarella's cautious, defensive style. After the World Cup, Eriksson again bought Veron, this time spending £15million to bring him to Parma. That Parma team - with Lilian Thuram at the back and Hernan Crespo scoring plenty of goals from Veron's assists - won the Italian Cup in 1999. But Eriksson had already left for Lazio, and he soon lured Veron and Crespo to the same club, paying £18.1 million for the former and £35 million for the latter in the obvious hope of buying the Italian title. It worked, with Veron the fulcrum of a Lazio side that was to win the Serie A title, the Italian Cup and the Super-Cup in 2000. Veron was at that time being mentioned as one of the greatest players in the World, and alongside his miraculous passing ability, he was scoring some impressive goals :
But controversy was already following him. There had been talk about the vailidity of his European passport in Italy for some time, and in 2001 a scandal erupted. Veron, feeling that Lazio were not offering him the proper support, moved to Man Utd in July for £28.1 million, a British record fee. His escalating value and the talk of his ability increased expectations at the club, which had won the Premiership in each of the preceding three seasons. Veron slotted into what had been, at its peak, arguably the best midfield in Europe, with Ryan Giggs on the left wing, David Beckham the right, Roy Keane and Paul Scholes in the middle and Nicky Butt as a utility player. Veron was expected to play in the centre with Keane, but the two proved curiously incompatable. Keane was no mere water-carrier in the Simeone mould, but a box-to-box player, who tackled, harried, organised everyone around him and established his own rhythm of simple, short passes and directed and bullied his team all over the pitch. Whereas Keane and Scholes had played together for years and had developed an understanding, Veron and Keane never really got the chance to. Keane's game seemed to cancel out Veron's, making him strangely peripheral in many games, his obvious gifts blunted. Veron also seemed disturbed by the pace and intensity of the Premiership, where he was never given the time he had taken for granted in Italy. After some early promise his performances in England became inconsistent, and his spirit and attitude were questioned. In his first season with United, Arsenal won the League, United exited the Champions League to Bayer Leverkusen, and his status as a great player was brought into doubt.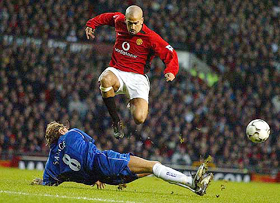 His salvation seemed to lie in that summers world Cup in Japan and Korea, where Argentina were pre-tournament favourites alongside holders France. This was an Argentina side where Veron was the chief creative force, coach Marcelo Bielsa favouring a European-style pressing game which had seen his squad take the qualifiers in South America by storm. But following the countries recent Economic meltdown, there was a lot of pressure on the players to lift the nation. That job was made more difficult by the group they had been drawn in - this tournaments "Group of Death" alongside England, Sweden and Nigeria. Argentina were to discover that the fast pace that had worked so well in South America was less effective against European teams used to playing at such a pace. They beat Nigeria 1-0 in their first game, but failed to really gel, with Veron quiet and not as dominant as he had been in the qualifiers. He had arrived for the tournament having picked up an injury and struggled for fitness throughout, which was evident in the next game, a 1-0 defeat to England. Though Argentina controlled the majority of the possession, Veron was outplayed by a combination of his United colleagues, Scholes and Butt, with the latter particularly effective at closing down and hassling the Argentine. He was substituted midway through the second half and replaced by Pablo Aimar, a playmaker more in the classic Argentine mould, who, with his quick feet and clever link-up play, offered a much more acute threat in his time on the pitch than Veron had done. Devastated by that defeat to such old rivals, Argentina could only scrape a 1-1 draw with Sweden, and were eliminated from the competition. Many at home blamed Veron.
This was evident when he played in the teams first competitive home match since the World Cup, a South American qualifier against local rivals Chile in Buenos Aires in 2003. The crime of playing so poorly in 2002 was compounded by Veron making his living in England - as banners around the stadium reminded him - and he was booed onto the pitch and throughout the game by his own fans. Soon after, injured yet again, Veron lost his place in the squad. When Jose Pekarman replaced Bielsa as Coach, he made his preference for Riquelme as playmaker plain, and Veron was frozen out. He did not help his case any by feuding with Argentine captain Juan Pablo Sorin, however. The injury that cost him his place in the squad was also to lead to his departure from United. He played better in his second season in England, enjoying a run in the team alongside Phil Neville at the heart of midfield due to injuries to both Keane and Butt. Their twin showing against Arsenal - a gritty 2-0 win when Veron tackled, chased, closed down, and looked as if he had adjusted to the Premiership with ease - was a big turning point in the struggle for the title that season. He had always played better in the Champions League, and this season was no different, as he made and scored goals in the Group stages. However, his injury ruled him out at a crucial late stage in the season when United began a trademark run of victories to come from behind and overtake a flagging Arsenal. This was mostly achieved by the classic Giggs-Keane-Scholes-Beckham midfield, and in th echampions League, Veron returned to fitness too late to help the team overcome Real Madrid at Old Trafford, where they lost on aggregate. He celebrated winning a Premiership medal, but Alex Ferguson had seen that his team played just as well without Veron, and he was sold, against his wishes, to Chelsea for £15 million in the summer.
Chelsea had just been bought by Roman Abramovich and Manager Claudio Rainieri went on something of a spending spree, buying Damian Duff, Joe Cole, Hernan Crespo and Claude Makelele in addition to Veron that summer. Veron started well, scoring a goal in the first day victory over Liverpool, but he missed much of the rest of the season through injury, again returning to be brought on (and played catastrophically out of position, on the wing) in Chelsea's Champions League Semi-final defeat to Monaco. Chelsea fans, suspicious of having signed a player who had seemed to fail so conspicuously in Manchester and preferring Lampard, Cole and Makelele in midfield, already regarded him as a flop, after a single season. Rainieri was sacked and replaced by Jose Mourinho, who loaned Veron to Inter Milan for the next two seasons. Playing again at a pace he liked and in a more sympathetic, latin environment, Veron began to show his qualities once more, helping Inter to Italian Cup victories in 2005 and 2006.
This is a story with something of a happy ending. In 2006, Veron returned to Argentina, to the club of his boyhood and his father, Estudiantes. Now coached by his old friend and midfield minder Diego Simeone, Estudiantes had not won an Argentine championship in 23 years. With a month left in the Argentine Apertura, it looked like they would have to wait. But Boca Juniors kept on dropping points and Estudiantes, with Veron's experience and vision well-served by a young team full of hunger and potential, kept on picking them up. Eventually it came down to a play-off. Boca went 1-0 ahead in the first half, but Estudiantes, encapsulating their season in a single match, emerged victors at 2-1, and won their first championship in 23 years. A few weeks later, Veron was called up to the Argentina squad for the first time in 4 years. New Coach Alfio Basile was ardent in his desire to be an actual working coach for Argentina and not just a selector, and so he called up a squad of domestic-based Argentine players for a training camp. Veron obviously benefitted from this and with Basile declaring his intention to select more of these players in the future, there is a chance that he may play in this summers Copa America in Venezuala. Perhaps his comeback - and redemption, in the eyes of Argentina fans - is still to play itself out. In terms of his career, his major error was in underestimating just how difficult it would be for him in England - he trusted in his talent, and then discovered that it was a talent requiring specific conditions in which to flourish. Those years of failure at what should have been his peak hang over his career, but he is a player with Champions Medals from Italy, England and Argentina on his mantel, not a bad haul by any standards.
Heres a good compilation of what hes capable of, with as many great asists as goals :
Labels: football