Shuffle : Strawberry Letter 23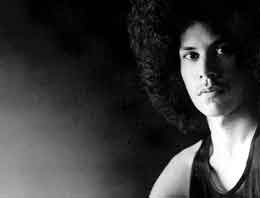 Possibly the greatest psychedelic soul single of the 1970s - and thats against some heavyweight competition - Shuggie Otis' "Strawberry Letter 23" was written when he was 17. Its about a girlfriend who sent him letters scented with her strawberry perfume, and its light and mellow, tender and funky, beautiful and exciting all at once, in the way any song about teenage love should really be.
Shuggie was the kind of musically polymorphic genius who could master any instrument and, accordingly, he plays most of them on "Strawberry Letter 23". Worse, he plays them beautifully. He had first emerged as a virtuoso guitar prodigy, playing in the band led by his father, Johnny Otis, from the time he was twelve years old. He released his first solo record, "Here Comes Shuggie Otis" in 1970, and it rested mainly on the strength of his guitar technique, which was so good that The Rolling Stones asked him to join them to replace Mick Taylor in 1976. He refused, having had enough of being a sideman in his years with his father. He had left the sort of music the Stones played behind in his teens, anyway, and continued to develop his own style and vision, resulting in a second record, "Freedom Flight" (1971), which sounded unlike anything else being released in mainstream soul music at that time. Its the record containing "Strawberry Letter 23".
I've only ever asked a DJ the name of the song he just played, and that was this song. At that time it wasn't available on CD, and he had it on a battered old vinyl copy of "Freedom Flight". A few years later, David Byrne' Luaka Bop label issued Shuggie's third album, the amazing "Inspiration Information" (1974) on cd for the first time, including a few tracks from "Freedom Flight" as bonuses. "Strawberry Letter 23" was of course amongst them.
Its strangely textured - acoustic guitars, very lightly strummed, piano and a soft drum sound, with timpani and bells handling much of the melody for the first verse. Then backing vocals come in for the second verse, almost whispered. The whole thing is dreamlike, gossamer-light, until the guitar solo, a lovely circular figure spiralling endlessly around those sighing backing vocals as the entire sound is distorted and compressed until the fade. The chorus passes by just about unnoticed. This song doesn't really need one since the verses are so catchy, so beautiful. The lyrics are a naive list of psychedelic imagery: "west purple shower bells and tea" and "Blue flower echo from a cherry cloud", though the first line establishes that this is a love song: "Hello, my love, I heard a kiss from you" and Shuggie returns to the subject of the song for its climax after the first verse, when he sings of flying free in his baby's arms. That naivete works in the songs favour - its singer is so earnest, believes in what he is singing to such an obvious extent, that it is hard to remain unconvinced by him.
Shuggie was a famous perfectionist in the studio, and you can almost hear that, the effort required to make a recording so fragile and delicate out of such a strong melody. But that was his hallmark - "Inspiration Information" in particular is full of songs that are intricate and subtle, many of them instrumentals which sound surprisingly modern. They often sound more like sketches than fully realised works, and the influences are obvious but eclectic - here was an artist who was into soul and jazz and the blues and rock and pop and was interested in electronic and even ambient sounds. The fact that he tried to combine all these interests into his own work is what makes it so quietly thrilling, allied with his songwriting talent. Its probably also what sentenced his career to the category of cult artist. The melancholy and delicacy of his best material - even a song as filled with joy as "Strawberry Letter 23" is tinged with a specific, if hard to pinpoint, sadness - is most likely the major reason he never made it big. Though the fact that he took so long to make that third album that his label lost patience and dropped him can't have helped, either. A Quincy Jones-produced "Strawberry Letter 23" was released by the Brothers Johnson in 1977, sold a million copies, and gave Shuggie Otis some sort of immortality. That discofied version of the song - also excellent, but lacking the joy and strangeness of the original - has featured in "Jackie Brown" and a Coke advertising campaign, while Shuggie's has been given greater exposure by the CD reissue of "Inspiration Information" and a recent sample by Beyonce. After retiring, disillusioned, from the music business in 1974, Shuggie went back on the promotional circuit for the release a few years ago, playing on such shows as Letterman and Conan O'Brien in the US, and doing a couple of small gigs too. No footage of any of that on Youtube, but there is this:
Labels: music