arf arf sigh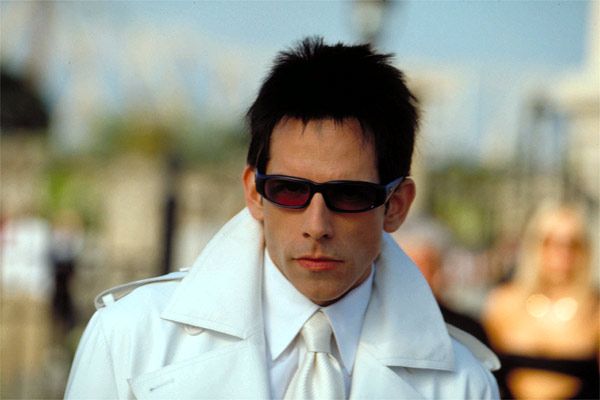 "I guess what Judd Apatow is to me, is what Terrence Malick is to David Gordon Green. They're just good friends. And David said to me the other day, 'Guess what Terrence Malick's favourite movie of the last 10 years is?'"
What?
"Zoolander! He knows every word, watches it every week. Which just goes to show, you never can predict these things."
- Seth Rogen, The Guardian, 14th September 2007
...which made me think about the humour in Malick's work. There isn't much, frankly. A little comes in his first two films - its there in the unexpected and distinctive juxtaposition of image and voiceover and the ironies created by that, some of which are blackly funny. Martin Sheen's brilliant performance in "Badlands" (1973) crackles with humour, among other things, and Malick is obviously aware of it. His first film and student project, "Lanton Mills" (1969) is reportedly a comedy, but his two most recent works, "The Thin Red Line" (1998) and "The New World" (2005), seem utterly without any humour, beautiful and profound as they both are.
Which I suppose is not so strange. Just because an artist generally works in a serious register does not disqualify him from a sense of humour. Its the thought of Malick - whose work is so poetic and often ethereal - chuckling at "Zoolander", which I can't really assimilate. "Zoolander" is not a bad film and its got its share of funny moments, and it uses Ben Stiller and Owen Wilson better than most films do, but still, it seems so far from Malick's own work...
...Which may be the point. Stanley Kubrick was a massive fan of Albert Brooks' great "Modern Romance" (1981) and Richard Rush's "Freebie & the Bean" (1974), two films which seem to have absolutely no resemblance to anything in his own body of work (unless you look very hard at the cynical conclusions Brooks draws about relationships, which are echoed in "Eyes Wide Shut" (1999)). But Kubrick explained that he loved most the films which he felt he would have been incapable of making himself, and it is hard to imagine his sensibility brought to bear on either of those films. Just as it is bizarre to imagine a Malick version of "Zoolander", though that is a film I would pay to see.
What it really suggests is the subjectivity of humour. I've had a problem recently discussing comedy, and I think its this level of subjectivity that creates the difficulty for me. I believe it was Roger Ebert who wrote about what makes you laugh and what turns you on as the two most subjective things in life - no two people are the same, and it is impossible to truly explain what you like and why to anybody else. Is this the reason I've written little about comedy here? I watch comedies, obviously, I go to comedy movies, watch comedy TV shows, I used to go to lots of stand up comedy, but its not something I'm keen to examine too closely. I've seen 3 comedies over the last few weeks, but I have no interest in writing about any of them here, much as I enjoyed two of them. Which isn't like me. I tend to analyze the things I like, to try to see what makes them work. Not with comedy. I just like to laugh, and not think too hard about why afterwards.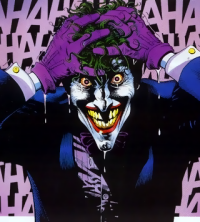 I had a conversation in work about a year ago that informs this subject and my view of it. Channel 4 had just run their "100 Funniest Comedians" list show, and 4 or 5 of us were discussing it. What quickly became apparent was the ferocity and confidence of opinion. Everybody was sure they were right. Everybody knew that they knew what was funny, and what wasn't. Somehow, if this had been a conversation about drama, these same people wouldn't have been quite so certain, or quite so invested. But comedy brings that out in people. Because everyone wants to think that they have a great sense of humour. Most people even seem to want to think that they're really funny. And most of my colleagues were quite funny. But not about comedy. About comedy they were all so serious, and so sure that Bill Hicks is funnier than Billy Connolly and Lee Evans isn't funny at all and why wasn't Russell Brand lower? And after a while, it just seemed like a vaguely unpleasant, pointless conversation.
I was the same. I saw myself as qualified to have these conversations, too. To tell people with certainty that "The League of Gentlemen" just isn't funny. I've seen Bill Hicks live, and quite a few of the other guys on that list, as if that means anything. But it doesn't. It just means that I know what makes me laugh, just like anyone else. I have a friend who loves to tell me how much better than "Friends" "Seinfeld" was. And he may be right, but I never really liked "Seinfeld" all that much. I know it was funny, but something about the tone bugged me, so I never watched it consistently. Whereas "Friends", for all that it was pink and fluffy and smug and schmaltzy and about unreal people in a universe of wish-fulfillment - it made me laugh. Which is all I ask of any comedy.
The only outright comedy I've written about here so far has been "Idiocracy". But what was interesting about that film wasn't the humour, but the subtext and the circumstances of the release. I didn't have all that much to say about the actual comedy itself - some of it made me laugh, some didn't. The only comedy in my top 10 list last year was "Borat", and the little I wrote about it is all about how much it made me laugh. Because that has to be the barometer for any comedy, surely? Yes, "Borat" and "Idiocracy" might have had other things going on beneath the surface, but that surface, for both films, was all about making an audience laugh.
I don't really have a concrete point here. I once emailed a friend telling him that "I don't do comedies". Which was a joke, but one containing an element of truth. Few comedies live up to my expectations, is the problem. They make me laugh out loud a handful of times, and thats not enough for me. I want my sides to hurt, my face to ache. That doesn't happen enough. So if "Zoolander" does that for Terrence Malick, then he's right to watch it every week. Because its a rare and precious thing.
Labels: film